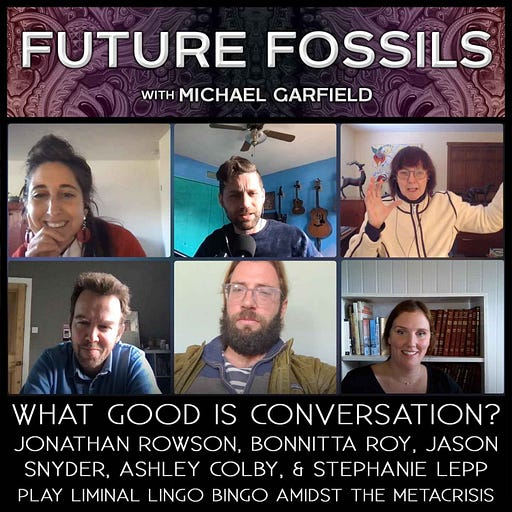 Apr 29, 2022 • 1HR 43M
185 - What Good Is Conversation? Jonathan Rowson, Bonnitta Roy, Jason Snyder, Ashley Colby, & Stephanie Lepp Play Liminal Lingo Bingo Amidst The Metacrisis
Join paleontologist-futurist Michael Garfield and an avalanche of amazing guests for deep but irreverent discussions at the edge of the known and knowable: on prehistory and post-humanity and deep time, non-human agency and non-duality, science fiction and self-fulfilling prophecies, complex systems and sustainability (or lack thereof), psychedelics as a form of training for proliferating futures, art and creativity as service and as inquiry. New episodes on a roughly biweekly basis. Get bonus material and support the show at patreon.com/michaelgarfield or michaelgarfield.substack.com
Don't waste another minute here. Go read the full show notes on Patreon!
Be forewarned: This latest episode is some extremely heady stuff. But thankfully, it's also full of heart and soul...
Back in February, Jonathan Rowson posted two clips (here and here) from his latest in-progress writing tlimito Twitter, where it succeeded in baiting a bunch of the folks with whom I regularly interact as members of the so-called "Liminal Web" into reflecting on the value of partitioning a global boil of loosely-associated "sensemakers," "meta-theorists," and "systems poets" into well-meaning but ultimately dubious cultural taxonomies.
I had plenty to say about this (here, here, and here) from my awkwardly consistent stance of being both enthusiastic and skeptical about apparently everything. But so did numerous other brilliant and inspiring people, including Bonnitta Roy, Stephanie Lepp, Ashley Colby, and Jason Snyder – all of whom I've wanted on the show for a while (with the exception of Stephanie, with whom I had a great chat back on episode 154). So I took it upon myself to press for an on-the-record group discussion about the virtue and folly of putting labels on sociocultural processes and networks that are defined by their liminality: Is this ultimately a good thing, or does it just kill the magic in a foolish servility to economic pressures and the desire to be recognized as A Movement?
When we finally met at the end of March for our call, the conversation turned to issues with more urgency and gravitas — namely: Is it even helpful to spend all of our time talking about crises and metacrises when there is so much work to be done?
What transpired was easily one of the more profound and inspired conversations I've ever had the good fortune to host on this show, although it was also more beset with insane and infuriating technical problems that getting it ready for release took over thirty hours of excruciating editing. I am so immensely glad I am finally done and can get on with my damn life! But also that I get to share this with you and hear what the rest of our scene(s) have to contribute to this discourse.
Support this show http://supporter.acast.com/futurefossils.
---
Hosted on Acast. See acast.com/privacy for more information.