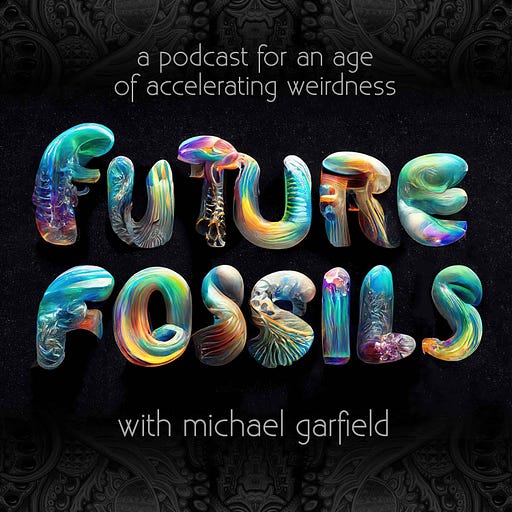 Jan 20 • 1HR 24M
197 - Tadaaki Hozumi on Japanese Esotericism, Lost Civilizations, and The Singularity (Part 1)
Riffing on occult mythologies, buried histories, animism, analog-digital, and magic...
Join paleontologist-futurist Michael Garfield and an avalanche of amazing guests for deep but irreverent discussions at the edge of the known and knowable: on prehistory and post-humanity and deep time, non-human agency and non-duality, science fiction and self-fulfilling prophecies, complex systems and sustainability (or lack thereof), psychedelics as a form of training for proliferating futures, art and creativity as service and as inquiry. New episodes on a roughly biweekly basis. Get bonus material and support the show at patreon.com/michaelgarfield or michaelgarfield.substack.com
This week and next, we talk to returning guest Tadaaki Hozumi about the crossroads between the esoteric history of Japan and its Indigenous peoples and royal family; the mysterious convergence of ancient records from around the world on stories of lost civilizations and extraterrestrial encounters; and how animism and magic seem ripe for retrieval as we barrel down the chute of the Technological Singularity.
This is one of those edge-case conversations that I'll look back on in twenty years and either consider totally insane or uncanny in its prophetic insights. I don't confidently recommend every mention in the show notes as an authoritative final source, but I refuse to censor our citations out of my commitment to humility about What's Really Going On. This is a truly off-road dialogue on ideas so far outside of the dominant world-space of early 21st-Century Western thinking as to constitute a reputational risk, but what else is this show for than to showcase maverick thinkers and strange, potentially transformative speculations anchored in careful independent study?
Strap in for a crash course on hidden temple texts, occult perspectives on the analog-digital divide, and alternative narratives so bizarre and interesting I consider them worth review on aesthetic grounds alone!  Tada is one of those "too weird to live, too rare to die" wizards and wonders I'm honored to call a friend and colleague, and I'm delighted to have them back on Future Fossils to explore the Real with you.
In Tada's own blog post about this episode, they say:
"It was an incredible opportunity to get to speak so freely about ancient-future matters on a prolific podcast with a name that basically captures the essence of the discussion. I've always appreciated Michael's kindness and bravery as a host, not just of a podcast but of whole online communities, who is committed to giving his listenership and community the permission to explore the strangest possibilities of human existence."
✨ Subscribe anywhere you go for podcasts!
This conversation continues with lively and respectful interaction every single day in the members-only Future Fossils Facebook Group. Join us!
I'm also ISO moderators interested in helping steward the Discord server so I can release it into the wilds as a fan-operated platform. Want to claim stake?
✨ Support The Show:
Subscribe to the podcast, essays, music, and news on Substack or Patreon
Buy my original paintings or commission new work
Buy my music on Bandcamp (they take 15%)
✨ Tip Jars:
@futurefossils on Venmo
$manfredmacx on CashApp
michaelgarfield on PayPal
✨ Mentioned & Related Media:
Future Fossils 149 - Cultural Somatics & Ritual as Justice with Tada Hozumi, Dare Sohei, and Naomi Most
Graham Hancock's hotly-debated Netflix series Ancient Apocalypse
Future Fossils 14 - WESTWORLD Problems (feat. Michael Phillip of Third Eye Drops)
Future Fossils 65 - John David Ebert (Hypermodernity & Blade Runner 2049)
The Evolution of Surveillance by Michael Garfield
Improvising out of Algorithmic Isolation by Michael Garfield
Future Fossils 179 - Scout-Lieder Wiley on Transrational Oracles & Magical Thinking in The 21st Century
Future Fossils 195 - A.I. Art: An Emergency Panel with Julian Picaza, Evo Heyning, Micah Daigle, Jamie Curcio, & Topher Sipes
Vagabonding: An Uncommon Guide to the Art of Long-Term World Travel by Rolf Potts
T.A.Z.: The Temporary Autonomous Zone, Ontological Anarchy, Poetic Terrorism by Hakim Bey
William Irwin Thompson – Exodus as Revolution (Prophecy and Revolution: Five Lectures on the Old Testament, #3)
Future Fossils 178 - Chris Ryan on Exhuming The Human from Our Eldritch Institutions
Remember Who You Are Remember 'Where' You Are and Where You 'Come' from by David Icke
The Arcturus Probe: Tales and Reports of an Ongoing Investigation by Jose Arguelles
EVIDENCE OF A MASSIVE THERMONUCLEAR EXPLOSIONS ON MARS IN THE PAST: The Cydonian Hypothesis and Fermi's Paradox by J. E. Brandenburg
Future Fossils 117 - Eric Wargo on Time Loops: Precognition, Retrocausation, and the Unconscious
Sun-Moon Revelations / Hitsuki Shinji (1, 2)
Future Fossils 176 - Exploring Ecodelia with Richard Doyle, Sophie Strand, and Sam Gandy at the Psilocybin Summit
Coming Into Being: Artifacts and Texts in the Evolution of Consciousness by William Irwin Thompson
Future Fossils 181 - Jim Rutt on The Pre- and Post-History of GameB
UCLA social scientist Paul Smaldino on covert signaling, identity, and social learning
Ten Arguments for Deleting Your Social Media Accounts Right Now by Jaron Lanier
Japanese-Jewish Common Ancestry Theory
Fuxi Nuwa (compass and square)
Episode Music: "Olympus Mons" off the Martian Arts EP by Michael Garfield