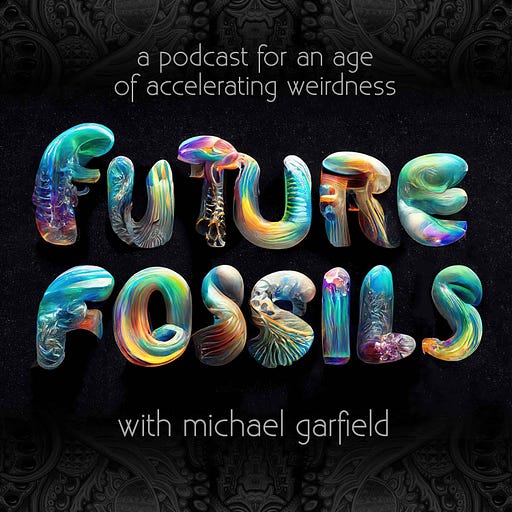 Jun 19 • 1HR 9M
💐📚🏛️ 204 - Jamie Joyce on The Society Library and Tools for Making Sense Together
It's time for a web-based portmanteau!
Join paleontologist-futurist Michael Garfield and an avalanche of amazing guests for deep but irreverent discussions at the edge of the known and knowable: on prehistory and post-humanity and deep time, non-human agency and non-duality, science fiction and self-fulfilling prophecies, complex systems and sustainability (or lack thereof), psychedelics as a form of training for proliferating futures, art and creativity as service and as inquiry. New episodes on a roughly biweekly basis. Get bonus material and support the show at patreon.com/michaelgarfield or michaelgarfield.substack.com
This week we talk with Jamie Joyce of The Society Library!
✨ SOME References:
An Oral History of The End of 'Reality'
Regina Rini and the Epistemic Backstop
✨ Support Future Fossils:
Subscribe anywhere you go for podcasts.
Subscribe to the podcast PLUS essays, music, and news on Substack or Patreon.
Buy my original paintings or commission new work.
Or if you're into lo-fi audio, follow me and my listening recommendations on Spotify.
This conversation continues with lively and respectful interaction every single day in the members-only Facebook Group and public-facing Discord Server (with patron channels). Join us!
✨ Tip Jars:
@futurefossils on Venmo
$manfredmacx on CashApp
michaelgarfield on PayPal
✨ Affiliate Links:
• Find all the books I mention in the show at the Future Fossils Bookshop.org page!
• Podium.Page is a very cool new AI service for podcast show notes I'm happy to endorse. Sign up here and get three free hours and 50% off your first month.
• BioTech Life Sciences makes anti-aging and performance enhancement formulas that work directly at the level of cellular nutrition, both for ingestion and direct topical application. I'm a firm believer in keeping NAD+ levels up and their skin solution helped me erase a year of pandemic burnout from my face.
• Help regulate stress, get better sleep, recover from exercise, and/or stay alert and focused without stimulants, with the Apollo Neuro wearable. I have one and while I don't wear it all the time, when I do it's sober healthy drugs.
• Musicians, let me recommend you get yourself a Jamstik Studio, the coolest MIDI guitar I've ever played. I LOVE mine. You can hear it playing all the synths on my song about Jurassic Park (and that's a link to a new AI music video).
✨ And listen, folks…if you haven't seen my AI music videos yet…get on it: