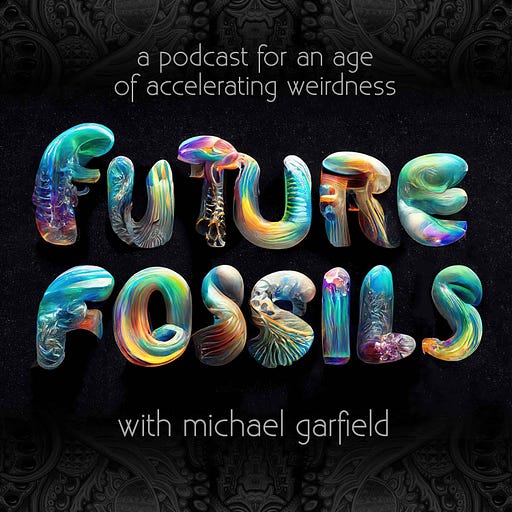 Jul 12 • 1HR 32M
🎶⚔️👏🏼 205 - Greg Thomas & Stephanie Lepp on Jazz Leadership & Antagonistic Cooperation
A juicy trialogue on harnessing diversity and conflict for collective good.
Join paleontologist-futurist Michael Garfield and an avalanche of amazing guests for deep but irreverent discussions at the edge of the known and knowable: on prehistory and post-humanity and deep time, non-human agency and non-duality, science fiction and self-fulfilling prophecies, complex systems and sustainability (or lack thereof), psychedelics as a form of training for proliferating futures, art and creativity as service and as inquiry. New episodes on a roughly biweekly basis. Get bonus material and support the show at patreon.com/michaelgarfield or michaelgarfield.substack.com
Before we begin: I'm teaching a six-week online course on science, philosophy, economics, media, and dinosaurs! Join me at NuraLearning.com for Jurassic Worlding, a psychedelic deep dive into self-fulfilling techno-thrillers and the analog-digital transition, starting August 1st! Use discount code FUTUREFOSSIL for 10% off.
This week on Future Fossils, I enter into a deep and delightful call-and-response game with Greg Thomas, co-founder of Jazz Leadership with his wife Jewel Kinch-Thomas, and Stephanie Lepp, CEO of Synthesis Media and multiple Webby-winning transmedia culture hacker whose friendship I made interviewing her for episode 154.
Among many other things, we discuss these superb articles by Jewel Kinch-Thomas:
Jazz Improvisation: Lessons for Conversation
Reciprocity: The Ebb and Flow of Relationship Building
Change Leadership
…and these pieces by Greg:
Race and Jazz: A Candid View
A Paradigm Shift on Race
Cultural Intelligence: Transcending Race, Embracing Cosmos
…and these pieces by and with Greg at Free Black Thought:
Deracialization Now
Jazz, The Omni-American Ideal, and a Future Beyond Bigotry
Considering Deracialization: A Response to Glenn Loury and Clifton Roscoe
✨ Chapters:
(0:00:00) - Departing From The Score To Navigate Transition
(0:13:08) - Jazz, Business Leadership, and Conversation
(0:31:37) - Principles of Jazz Leadership and Anti-Debate
(0:49:53) - Exploring Reciprocity, Power, and Disagreement
(1:03:33) - Deracialization, Defining Jazz, and Integral Theory
(1:19:40) - Race, Jazz, Cultural Somatics, and Collective Intelligence
✨ Mentions:
Tyler Marghetis (Complexity 67), Allan Combs, Charles Eisenstein (Future Fossils 85), Doug Rushkoff (Future Fossils 67), Tech Ethics As Psychedelic Parenting at CBA, Stewart Brand's Pace Layers, Robert Poynton (Future Fossils 196), Jewel Kinch-Thomas, Albert Perry, Ian Leslie at Aeon Magazine: "A Good Scrap", Lynn Margulis, Daniel Schmachtenberger (Future Fossils 51), Zak Stein (Future Fossils 97), Joseph Campbell, Heinrich Zimmer, Ralph Ellison, Peter Limberg, Thomas Jefferson, Frederick Douglass, Danielle Allen, Glenn Loury
Full show notes and transcript generated by Podium.Page for patrons down below.
✨ Support Future Fossils:
Subscribe anywhere you go for podcasts.
Subscribe to the podcast PLUS essays, music, and news on Substack or Patreon.
Buy my original paintings or commission new work.
Buy my music on Bandcamp.
(Or if you're into lo-fi audio, follow me and my listening recommendations on Spotify.)
This conversation continues with lively and respectful interaction every single day in the members-only Facebook Group and public-facing Discord Server (with patron channels). Join us!
✨ Tip Jars:
@futurefossils on Venmo
$manfredmacx on CashApp
michaelgarfield on PayPal
✨ Affiliate Links:
• Find all the books I mention in the show at the Future Fossils Bookshop.org page!
• Help regulate stress, get better sleep, recover from exercise, and/or stay alert and focused without stimulants, with the Apollo Neuro wearable. I have one and while I don't wear it all the time, when I do it's sober healthy drugs.
• BioTech Life Sciences makes anti-aging and performance enhancement formulas that work directly at the level of cellular nutrition, both for ingestion and direct topical application. I'm a firm believer in keeping NAD+ levels up and their skin solution helped me erase a year of pandemic burnout from my face.
• Podium.Page is a very cool new AI service for podcast show notes I'm happy to endorse. Sign up here and get three free hours and 50% off your first month.
• And musicians, let me recommend you get yourself a Jamstik Studio, the coolest MIDI guitar I've ever played. I LOVE mine. You can hear it playing all the synths on my song about Jurassic Park (and that's a link to a new AI music video).
✨ Full (machine-generated) show notes and transcript below the fold for patrons:
This episode is for paid subscribers