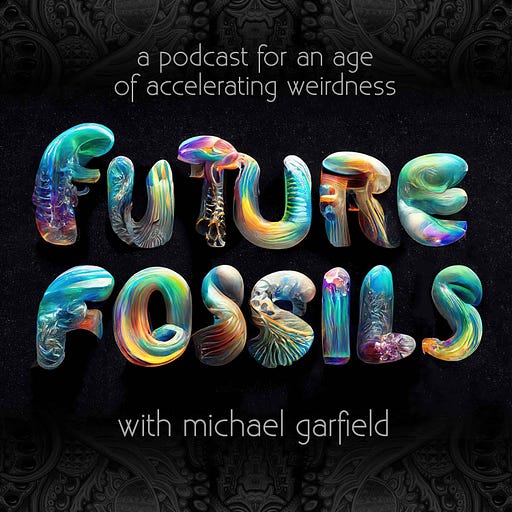 Jul 27 • 1HR 22M
🤩🎻🤖 206 - Scout Rainer Wiley on AI vs. BS Jobs, The Return of Culture, and Eldritch Wonders in The Bright Apocalypse
A profound and shamelessly undisciplined discussion between neurodivergent friends...
Appears in this episode
Join paleontologist-futurist Michael Garfield and an avalanche of amazing guests for deep but irreverent discussions at the edge of the known and knowable: on prehistory and post-humanity and deep time, non-human agency and non-duality, science fiction and self-fulfilling prophecies, complex systems and sustainability (or lack thereof), psychedelics as a form of training for proliferating futures, art and creativity as service and as inquiry. New episodes on a roughly biweekly basis. Get bonus material and support the show at patreon.com/michaelgarfield or michaelgarfield.substack.com
...about AI, art, culture, celebrity, identity, and trauma.
Before we begin: I'm teaching a six-week online course on science, philosophy, economics, media, and dinosaurs! Join me at NuraLearning.com for Jurassic Worlding, a psychedelic deep dive into self-fulfilling techno-thrillers and the analog-digital transition, starting August 1st!
The course is now pay-what-you-can thanks to the generosity of our learning platform…everyone into the pool for my first "Michael plays professor" cohort!
This week on Future Fossils, I'm joined by returning guest my friend Scout Rainer Wiley, metamodern ritual artist, expectation-defying wunderkind, and host of the blog and podcast The Oscillator's Stone for a conversation about…well…
Here, I'm going to let the superb language model at Podium.Page break it down for you. I wouldn't call this list "exhaustive" since we let the ADHD faeries carry our discussion wherever they liked, but I'm pretty impressed with this briefing:
Key Takeaways:
1. The episode delves into the complex intersection of art, culture, and artificial intelligence. It brings to light the implications of AI on our lives, potentially liberating us from the attention economy and the idea of work as a requirement for survival.
2. The conversation touches upon the significance of local scenes in the era of globalization and scrutinizes the perils of celebrity worship.
3. Intellectual property rights and ownership boundaries in the age of late capitalism are explored, sparking a debate about fairness and the redistribution of wealth in an increasingly digital and AI-driven world.
4. The episode delves into socio-economic issues, discussing how rising real estate prices and the scarcity of affordable housing impact culture.
Unanswered Questions and Potential Inquiries:
1. How can AI be used to promote cultural diversity rather than appropriating and diluting it?
2. How can the power of AI be harnessed to address socio-economic issues such as housing affordability?
3. Can AI help us understand and navigate the complexities of celebrity culture, or will it exacerbate the problems?
4. What does the future of intellectual property rights look like in an age of increasingly advanced AI?
5. How can the insights of indigenous and black sci-fi writers inform our approach to the future?
6. As technology continues to reshape our world, how do we maintain the importance of local scenes and individuality?
7. How can the lessons of metamodernism inform our approach to the future, particularly in relation to technology and AI?
8. Can AI play a role in addressing ancestral traumas, and if so, how?
Overall, this podcast episode offers a thought-provoking exploration of the intersections of art, culture, and AI, sparking questions about our future in an increasingly AI-driven world.
HA! Wow. There you have it. Imagine all that only through the filter of two delightfully bizarre transmedia philosopher-artists at their Casual Friday best.
✨ 
Chapters:
(0:00:00) - Culture's Impact on Art Exploration
(0:06:16) - AI's Impact on Work and Culture
(0:21:05) - Scale and Local Scenes
(0:27:49) - Scene and Cultural Shift Impact
(0:33:42) - Doom, Hope, and the World Reflections
(0:48:54) - Metamodernism, Apocalyptic Themes, and Personal Reflections
(0:58:38) - Exploring Ancestral Traumas and Embracing Romanticism
(1:05:49) - Exploring Popularity, Culture, and the Future
✨
 Mentions:
Future Fossils 195 - Emergency AI Art Panel with Topher Sipes, Jamie Curcio, Evo Heyning, Julian Picaza, and Micah Daigle
Music in this episode:
"Biome Seven" from Biosphere Dreaming
"The Luminous Night" from Empty Frames
Johnny Depp
Anson Mount
Weezer - "My Name is Jonas"
Pierre-August Cot - The Storm (painting)
Donald Trump
Stuart Davis - Bright Apocalypse
Elroy Craich
Daniel Görtz + Michael Garfield + Tom Amarque on metamodern deep futurism
Star Trek: Strange New Worlds (TV series)
Taylor Swift - "Blank Space" (music video)
Mitski
Harley Quin (Batman franchise)
Queen's Gambit (TV series)
Victoria Nelson - The Secret Life of Puppets
Michael Garfield - "In Defense of Star Trek: Picard and Discovery"
✨ 
Support Future Fossils:
Subscribe anywhere you go for podcasts.
Subscribe to the podcast PLUS essays, music, and news on Substack or Patreon.
Buy my original paintings or commission new work.
Buy my music on Bandcamp.
Follow me and my annually-updated listening recommendations on Spotify.
Join our lively members-only Facebook Group and public-facing Discord Server (with patron channels) for rewarding discourse on tap every day!
✨ 
Tip Jars:
@futurefossils on Venmo
$manfredmacx on CashApp
michaelgarfield on PayPal
✨
 Affiliate Links:
• Find all the books I mention in the show at the Future Fossils Bookshop.org page!
• Help regulate stress, get better sleep, recover from exercise, and/or stay alert and focused without stimulants, with the Apollo Neuro wearable. I have one and while I don't wear it all the time, when I do it's sober healthy drugs.
• BioTech Life Sciences makes anti-aging and performance enhancement formulas that work directly at the level of cellular nutrition, both for ingestion and direct topical application. I'm a firm believer in keeping NAD+ levels up and their skin solution helped me erase a year of pandemic burnout from my face.
• Podium.Page is a very cool new AI service for podcast show notes I'm happy to endorse. Sign up here and get three free hours and 50% off your first month.
• And musicians, let me recommend you get yourself a Jamstik Studio, the coolest MIDI guitar I've ever played. I LOVE mine. You can hear it playing all the synths on my song about Jurassic Park (and that's a link to a new AI music video).
✨

Machine-generated

transcript below the fold for patrons…
This episode is for paid subscribers