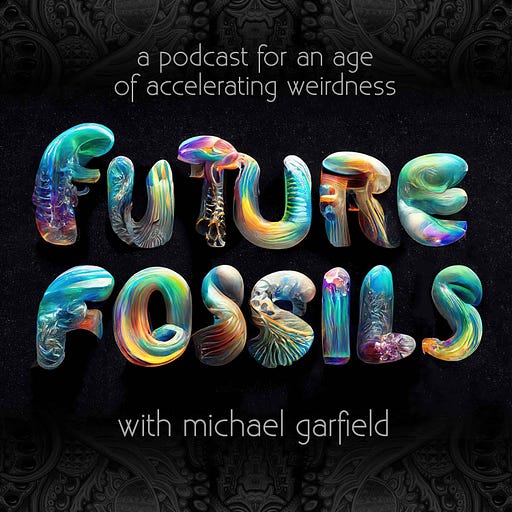 Aug 10 • 1HR 16M
🌊🏄🌱 207 - Tech & Community LIVE at Junkyard Social Club with Evan Snyder, Ryan Madson, Roger Toennis, Aaron Gabriel, & Juicy Life
Plus, for Patrons: More JP Viewing Parties + New Full-Concert Video
Join paleontologist-futurist Michael Garfield and an avalanche of amazing guests for deep but irreverent discussions at the edge of the known and knowable: on prehistory and post-humanity and deep time, non-human agency and non-duality, science fiction and self-fulfilling prophecies, complex systems and sustainability (or lack thereof), psychedelics as a form of training for proliferating futures, art and creativity as service and as inquiry. New episodes on a roughly biweekly basis. Get bonus material and support the show at patreon.com/michaelgarfield or michaelgarfield.substack.com
Before we begin: Join me for a six-week online course on science, philosophy, economics, media, and dinosaurs! Jurassic Worlding is a psychedelic deep dive into self-fulfilling techno-thrillers and the analog-digital transition. Combining live viewing parties with asynchronous study group action in a private forum, this course is pay-what-you-want and having you involved helps me flesh out ideas for my next book! We meet on Tuesday nights at 4 pm PT/7 pm ET. All recordings will be yours to resurrect at will if you can't make the classes live.
This week I'm glad to share a special Future Fossils Live recorded at one of the coolest places I have ever seen, the Junkyard Social Club in Boulder, Colorado! It's a menagerie of interesting brilliant weirdos, including my old friend and original co-host/robotics engineer Evan Snyder, soul-searching serial community-development entrepreneur Ryan Madson, former rocket scientist turned tech advisor Roger Toennis, former Google employee turned Director of Consciousness Hacking CO Aaron Gabriel Neyer, and "self-metaprogrammer" Tom Bassett aka Juicy Life.
In a rather fast-paced hour, we explore what is emerging in an age of learning machines and reimagined urban spaces and radical new modes of social order. This was one of those delightful in-the-flesh discussions that CLEARLY left us all enriched and hopeful for a world that, while out of our control, still shines with tasty possibility.
Chapters and keywords provided by my AI buddies at Podium.Page:
(0:00:00) - Exploring Interdependence and Community Dynamics
(0:03:50) - The Responsibility of Technology and Parenting
(0:15:48) - AI's Impact on Art and IP
(0:23:21) - The Intersection of Technology and Physicality
(0:31:25) - Exploring Artificial Intelligence and Cultural Shifts
(0:41:00) - The Future of Technology and Ethics
(0:45:58) - Technology and Interdependence in Society
(0:50:19) - The Interplay Between Interdependence and Technology
(0:55:47) - Technology, Culture, and Individual Impact
(1:01:27) - Tensegrity and the Future of Work
(1:05:37) - Exploring Hope and Creating New Paradigms
Interdependence, Community Dynamics, COVID-19, Human Connection, Urban Spaces, Technology, Parenting, Holistic Thinking, Future Tech, Corporate Power, Open-Source Language Models, Artificial Intelligence, Cultural Shifts, Individual Purpose, Operating System, Individualistic Consciousness, Tensegrity, Hope, Paradigms, Funemployment, Fractal Pods, Neural Nets, Fractal Tribe
Enjoy and do not hesitate to reach out if this kindles something in you!
✨ 
Support Future Fossils:
• Subscribe to (and review!) Future Fossils anywhere you go for podcasts.
• Then, support my work on Substack or Patreon for many, MANY extras, including our members-only Facebook Group and Discord Server's special private channels!
• You can also buy my artwork (or commission new custom art) and/or music.
• Follow my music and annually-updated listening recommendations on Spotify.
✨ 
Tip Jars:
@futurefossils on Venmo • $manfredmacx on CashApp • @michaelgarfield on PayPal
✨
 Affiliate Links:
• Find all the books I mention in the show at the Future Fossils Bookshop.org page.
• Help regulate stress, get better sleep, recover from exercise, and/or stay alert and focused with the Apollo Neuro wearable. I have one and love it!
• Podium.Page is a very cool new AI service for podcast show notes I'm happy to endorse. Sign up here and get three free hours and 50% off your first month.
• Musicians, let me recommend you get a Jamstik Studio, the coolest MIDI guitar I've ever played. You can hear it playing all the synths on my song about Jurassic Park.
• BioTech Life Sciences makes anti-aging and performance enhancement formulas that work directly at the level of cellular nutrition, both for ingestion and direct topical application. I'm a firm believer in keeping NAD+ levels up and their skin solution helped me erase a year of pandemic burnout from my face.
✨ Patrons-Only Extras Below The Fold:
🎸 Live at Honeymoon Brewery Full-Concert Video
Enjoy this full-length video I captured at one of my favorite concerts in over twenty years of music! This show at Honeymoon Brewery (RIP) was what I always wanted: outside, under a lovely tree, surrounded by family and friends, my kids playing with my friends' kids, great kombucha, cool autumn air. My daughter wore the new dress she had earned by making and then selling art with me. I got to show off my new eight-string strandberg guitar and fresh original material. We all got wonderfully buzzed. I'm heartbroken that Honeymoon closed this location (curse you, Santa Fe, for killing their amazing outdoor concert series!) but at least we have this fossil.
📝 Episode 207 Extended Show Notes & Transcript
Thanks everyone for your support! This year has not been easy and you're helping me buy time to be with my burned-out family and finish major projects before I'm subsumed by yet another bout of soul-destroying busywork.
This episode is for paid subscribers