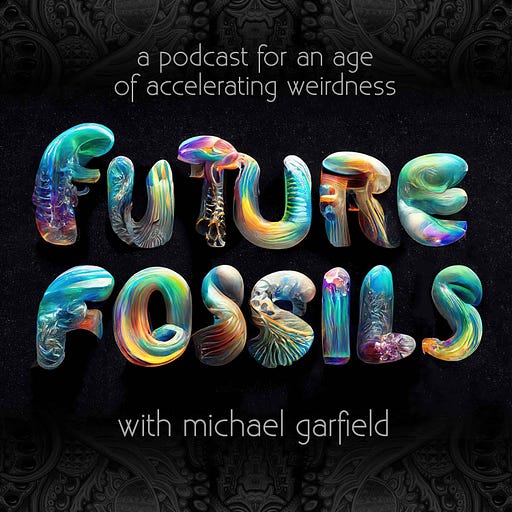 Sep 12 • 1HR 33M
🍄🎥👁️ 209 - Ken Adams on A Life of Psychedelic Film-Making & Collaboration with Terence McKenna
A truly powerful reflection on creativity, discovery, mystery, and friendship.
Join paleontologist-futurist Michael Garfield and an avalanche of amazing guests for deep but irreverent discussions at the edge of the known and knowable: on prehistory and post-humanity and deep time, non-human agency and non-duality, science fiction and self-fulfilling prophecies, complex systems and sustainability (or lack thereof), psychedelics as a form of training for proliferating futures, art and creativity as service and as inquiry. New episodes on a roughly biweekly basis. Get bonus material and support the show at patreon.com/michaelgarfield or michaelgarfield.substack.com
Subscribe and review at Apple Podcasts and/or Spotify. Or wherever!
This week I have the joy of sharing a long-overdue discussion with legendary psychedelic media pioneer Ken Adams (Vimeo | LinkedIn), one of the first people I ever interviewed on record years before Future Fossils and whose influence on my own creative life cannot be overstated. Two of Ken's main claims to fame are the films he created in collaboration with Terence McKenna, namely Alien Dreamtime (mediocre fan upload, archived references to) and Imaginatrix (rental page). This June was the thirtieth anniversary of Alien Dreamtime's theatrical release, a major if initially under-appreciated moment in the history of digital film-making, and I had the good fortune to meet up with Ken here in Santa Fe for his commemorative screening at The Jean Cocteau Cinema. What followed was an EPIC storytelling download about bold underground innovation told by one of the most soulful, thoughtful, heartfelt, humble, humorous, and generous people I know.
✨ 
Support Future Fossils:
• Become a patron on Substack, Patreon, and/or Bandcamp for MANY extras, including a members-only FB Group and private channels on our Discord Server!
• Buy the show's soundtrack (recorded live at Psychedelic Science 2023) on Bandcamp.
• Browse my art and buy original paintings and prints (or commission new work).
• Dig my reading list at the Future Fossils Bookshop.org page!
• Follow my music and awesome, eclectic playlists on Spotify.
✨ 
Tip Jars:
@futurefossils on Venmo • $manfredmacx on CashApp • @michaelgarfield on PayPal
✨ Chapters,
Summary, & Keywords provided by
Podium.Page
:
(0:00:00) - Reminiscing on Psychedelic Underground and Filmmaking
(0:10:07) - Ken's Childhood & Early Adulthood
(0:25:04) - Screenings and Influence of Psychedelic Movie
(0:30:06) - McKenna and Psychedelic Community Influence
(0:35:24) - Nature, Doubt, Validation
(0:44:23) - Late Night Studio Discovery and Reflection
(0:49:30) - Non-Human Encounters and Embracing the Weird
(0:57:17) - Encounters With Terence McKenna After His Passing
(1:10:46) - Spiritual Experiences and the Need for Change
(1:18:51) - Life, Legacy, and Creative Expression Reflections
Join me as I host Ken Adams, an experimental filmmaker, documentarian, and psychedelic explorer. We journey through his life from his childhood in Louisiana, his graduate studies in sociology and anthropology, to his discovery of LSD, and his eventual meeting with Terence McKenna. Ken shares his experiences with psychedelics and computers, and we discuss the impact these have had on his life and work. He provides insight into the psychedelic world in San Francisco, shedding light on the risks people took to make psychedelia accessible.
This episode offers a fascinating look into the world of psychedelic filmmaking, with Ken Adams sharing how he created a business model from showcasing his experimental film. From the Adobe theater in Austin to the Roxy in San Francisco, Ken reveals how his work was embraced in the psychedelic space. He further explores the influence of Terence McKenna, discussing how Terence navigated the expectations of being a celebrity, his thoughts on psychedelics, and his ability to unite the psychedelic community.
Finally, we examine Ken's experiences with non-human entities in altered states of consciousness, as well as his ideas on serving the common good. Ken shares his unusual encounters and his belief in the need for imaginative solutions to the issues facing the planet. We also reflect on the sadness and loneliness of the digital era, and discuss how digital arts are changing our world. Join us as we traverse the path of creativity, courage, and psychedelic exploration.
Psychedelic, Filmmaking, Terence McKenna, San Francisco, Digital Filmmaking, Louisiana, Sociology, Anthropology, LSD, Art World, Austin, Digital Arts, Transmutation of Trauma, Winter Solstice 2012, Non-Human Entities, Altered States, Spiritual Experiences, Imagination, Transformation, Existential Issues, Melancholia, The Digital Age, Oral History, Unborn, Dreaming, Noble Things, Valuable Mistakes
Special thanks to my friends at Noonautics.org for supporting both the show and pioneering research!
Photo by Frances Furr.